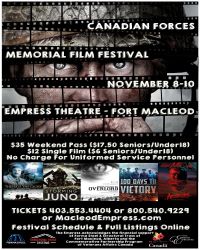 C F M F F Weekend Pass
When
Occurs on Friday November 8 2019
Approximate running time: 2 hours
Venue
Performance Notes
×
C F M F F - Weekend Pass $35.00 Adult / $17.50 Senior/Under 18
Single tickets $12.00 Adult / $6.00 Senior/Under 18
FRIDAY NIGHT - "OVERLORD" Theme: 75th Anniversary of D-Day
SATURDAY MORNING - "Theirs is the Glory" Theme: 75th Anniversary of Market Garden
SATURDAY AFTERNOON - "Storming Juno" Theme: The Canadians at Juno Beach during the invasion of Normandy on June 6, 1944
SATURDAY NIGHT - "Apocalypse Now Final Cut" Theme: The Vietnam War
SUNDAY MORNING - "Lest we Forget and the Royal Canadian Legion" Theme: The Home Front in Canada during both world wars.
SUNDAY AFTERNOON - "One 100 Days to Victory" Theme: Canada and its allies at the end of the Great War
Dr. Stéphane Guevremont is a former aircraft mechanic with practical experience at Pratt & Whitney Canada (Flight Testing) and Bombardier Aerospace (Action Centre). He was also a senior guide at the National Aviation Museum of Canada, Ottawa for four years. He then taught French as a second language to federal government employees across Canada (Hull, Ottawa and Vancouver) before completing a Ph.D. Degree program at the University of Calgary in November 2010 on "The Development of a Canadian Aircraft Industry, 1909-1949." In addition, he holds a CEGEP Degree in Aircraft Maintenance, a B.A. (First Class Honours) in History from McGill University and a civilian M.A. in War Studies from the Royal Military College of Canada, Kingston. Stéphane is currently teaching on his own for adult audiences. He taught European and military history in the Humanities Department at Mount Royal University in Calgary for six years and for the Faculty of Continuing Education at the University of Calgary for four years. He speaks as a regular columnist on CBC French Radio One in Alberta since 2005 and often presents public lectures in various Canadian cities. He also organises Canadian battlefields and history tours in Europe. Since August 2015, he is the current Honorary Colonel of 419 Tactical Fighter Training Squadron of the Royal Canadian Air Force based in Cold Lake, Alberta and has recently published the 75th anniversary book of the unit. In his spare time, he plays several sports, does volunteer work with seniors and high school students, as well as building scale models of figures, aircraft, ships and vehicles.